August, 2020 Update:
It's been eight years since we originally published this blog, and customer & partner portals are still a confusing (and sometimes controversial) topic in the Salesforce ecosystem. In recent years we have utilized new strategies to help companies engage with customers and partners through online portals. Using more flexible community licenses, bulk logins, WordPress, web components, and other technologies, we've been able to connect the dots between the data you store in Salesforce and what customers/partners expect from an online experience in 2020. If you're interested in building a customer or partner portal – or need to transition off of a legacy portal – send us a note and we'll help walk you through the options.
A Customer Portal Doesn't Have to be Expensive!
So you need a customer portal? And you want to explore building your portal on the
Salesforce Platform? If you're just starting your research you'll notice that there are a lot of different ways to accomplish this and it can be confusing.  There are several different license types that you have to choose from and the names can be as confusing as the options:  Gold Partner, Customer Portal Manager Custom, Customer Portal Manager Standard, Authenticated Website, High Volume Customer Portal, and a few others.  Wow! That's a lot of options and some of them can be expensive when comparing the cost of the license to the requirements of your portal.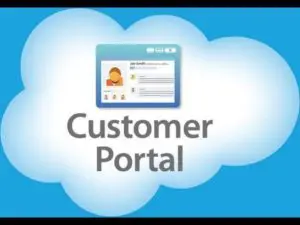 In this article, we're going to explore one option that can be very inexpensive:  building a Salesforce Customer Portal by using a Force.com Site and the Authenticated Website User Licenses (AWU). The AWU license is sold in banks of 100 users and retails from Salesforce for only $1 per user per month. That's right!  One dollar per user per month! This is a lot less than the other license options.  (Check with your Salesforce Account Manager for pricing specifics.)
Salesforce Customer Portal or Platform Portal?
Of course you'd rather pay $1 than up to $40 per user so let's do a quick requirements check to verify that this option will meet your needs. To be more accurate, we shouldn't call this configuration a Salesforce Customer Portal but should really call it a Salesforce Platform Portal.  We're essentially building a Force.com Site and providing named users (your customers) secure access to support information and other data.  These users can have read-only access to accounts, assets, documents, ideas, and questions in the Salesforce database.  Additionally, and most importantly, they can have full access to custom objects.
If you need to provide access to Leads or Opportunities, for example, a Platform Portal will not work for you; you need a Gold Partner license.  If you need to provide access to Cases, Reports, Solutions, or Contracts; you will need one of the Customer Portal license types. But if you're looking for a way to provide full access to data in custom Salesforce objects, a Platform Portal with the Authenticated Website User licenses will get the job done for you. Another benefit of a Platform Portal is that all the pages are built using Visualforce Pages allowing you to provide the exact look and feel that you want for your site.  Your customization options are endless with a Visualforce Page since they support CSS, JavaScript and the jQuery library.
Hopefully this article will help you to begin exploring this inexpensive Salesforce Customer Portal option. In the coming weeks we are going to add more articles on the subject. In the meantime, you can contact a Salesforce Developer or CRM Consultant at RedPoint Solutions to have us help build a proof of concept for you or to get started building your portal right away.